Giving advice, news and updates is not the only intention of our posts. We constantly monitor our clients' apps through the stores to view where we can boost your downloads even more. After having noticed publishers making use of our App Store Optimization (ASO) tips, we decided to delve deeper into keyword optimization. Keyword optimization is important for both ASO and SEO since your apps can be discovered through search engines. How can you ensure you're choosing the best keywords, you ask? It's all about research!
Keyword Research Flow
If you're a keyword optimization newbie the first thing you'll want to do is start brainstorming possible keywords. When thinking up keywords, you'll want to include both short tail keywords which are made up of one or two words, as well as long-tail keywords which include three words or more. Google Keyword Planner tool, SensorTower, Ubersuggest and WordTracker are great free tools we like to use – just enter the subject and they'll generate short and long tails keywords organized in alphabetical order for you. We suggest creating a list (in Excel for example) of all the keywords you've thought of: that way you'll be ready for the next step.
Just like anything, sometimes the best suggestions come directly from the source, so you should also look for keyword suggestions in Google Play and iTunes auto-complete query tools. The pictures below demonstrate how both stores fill in the blanks for the keyword inserted in the search field. Keep in mind that when publishing your app on the Apple Store, you will be asked to enter the keywords in a list separated from the description.
Lastly, finish up your keyword research by doing a bit of spying on your competitors. Checking out which keywords your competitors are using can often switch on a few lightbulbs! Tools like AppTweak and AppAnnie will give you this information. You can also mine keywords for competitor reviews to find out what type of launguage users are using to describe positive app experiences.
After compiling a list of keywords, it is time to check how feasible they are – aka how much competition and opportunity you have to show up in rankings.  Understanding keyword difficulty in fundamental to keyword research and can also help you delve deeper into a particular keyword to see if you can find a better alternative. To help you with this, you'll want to find a tool that includes a difficulty ranking for keywords to let you know up front how hard it is to be a leader for that word or phrase.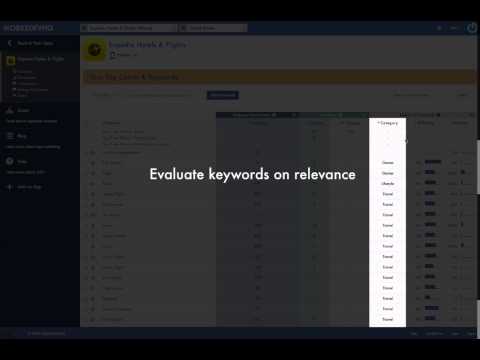 At this point you have a list of keywords that you can include in your app store keyword list and description. Keyword selection isn't strictly related to 'discoverability' or ranking on stores – they should also be used within your app description where copy needs to be persuasive to convince surfers to click that download (or purchase) button. Therefore, include your keywords in the app description to promote your app's unique selling points and include a call to action at some point in the text. If you need some help choosing persuasive words, check out this blog post from SalesForce.
Remember:
Having a great list of keywords is a great first step for a winning ASO, but you should always keep optimizing for increases in traffic & competition. To do this, you'll want to monitor your keywords' rankings with reports that track performance over a period of time. Tools like SensorTower and SearchMan can give you daily ranking results for your keywords, and also help you discover new ones to continue optimizing!